Marcella Sorg presenting a webinar on drug topics
Dr. Marcella Sorg, Research Professor at the Margaret Chase Smith Policy Center, will be presenting a webinar with Dr. Lisa Marsch of Dartmouth on "Understanding the Increase in Opiod Overdoses: NDEWS New Hampshire Hotspot Study Results." The webinar will be Tuesday, September 12, 2017 at 12:00 noon.
To register use this link: https://zoom.us/webinar/register/18de12bebdbc0a944ac87b605f06faf5
More information at the NDEWS website:  https://ndews.umd.edu/resources/landingtopic/ndews-presents
Sorg's Research on Drug Deaths in the News
The first half of 2017 saw 185 drug overdose deaths in Maine, according to data recently released by the state. Dr. Marcella Sorg of the Margaret Chase Smith Policy Center has tracked overdose deaths and trends for the state for years, and her research shows that the number of deaths linked to the powerful synthetic opioid fentanyl continues to rise. The data compiled by Sorg also indicates the overdose antidote Naloxone was given to more than a third of overdose victims who died.
Recent reports on drug overdose research in Maine:
Bangor Daily News
185 people died in Maine from drug overdoses in first half of 2017
US News and World Report
Drug Overdose Deaths in 1st Half of Year on Par With 2016
For full report see the Maine Attorney General's Office
Celebrating Summer Interns
The final reception for the Maine Government Summer Interns was held at the Blaine House to recognize the contribution of the student interns and their supervisors to Maine state and local government. The internship program this year hosted 39 students for summer internships in locations throughout Maine. Interns were undergraduate, graduate and law students who either attend school in Maine or are residents of the state studying elsewhere. The interns worked for 12 weeks in 11 different state government departments, 6 municipal governments and a regional planning commission. Their projects included transportation planning, energy engineering, public relations, forestry, policy research, accounting, biological lab work, GIS, public works, city administration, and much more.
Aaron Chadbourne, senior policy advisor to Gov. LePage, addressed the interns at the Blaine House reception, emphasizing the value and importance of their work for Maine as well as eliciting stories of what they learned from their experience. We thank this year's supervisors for creating terrific learning experiences for their interns and hope that future years are equally successful. Good luck in the future to all our interns!
New Issue of Maine Policy Review, MPR 26(1)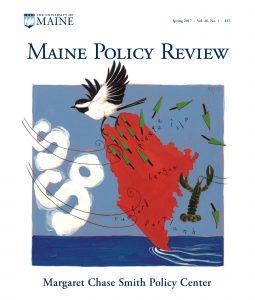 The latest issue of Maine Policy Review is now available for download on Digital Commons. To see a list of article titles and brief abstracts for MPR Volume 26, number 1, click here.
Marcella Sorg featured in the news for forensic work
Policy Center research scientist Marcella Sorg is featured in the Bangor Daily News for her work on forensic identification. An article in the Outdoors section of the BDN highlights Sorg's work.
Sorg is the only forensic anthropologist with her post-graduate qualifications in northern New England and typically works in Maine, New Hampshire and Rhode Island. She is often called upon for identification of remains found in the woods.
Sorg has also been featured in the news for her work on reporting drug deaths in Maine and Vermont. She currently directs the Policy Center's Rural Drug and Alcohol Research Program, which monitors epidemiological indicators of substance abuse, particularly drug-related deaths.
This Maine scientist gets the call when bones are found in the woods
Policy Center Welcomes Amy Blackstone
The Policy Center is pleased to welcome Amy Blackstone, Professor of Sociology, as a new member of the Center. Amy joined UMaine in 2003. She has served as Chairperson in Sociology and Director of UMaine's ADVANCE Rising Tide Center. Her research includes studies of women's civic engagement, workplace climate and harassment, and the childfree choice. Professor Blackstone's research has been featured in Huffington Post, Ms., CNN, MSNBC, The Atlantic, The New Yorker, TODAY, public radio, and a variety of other local and national media outlets. Her most recent teaching and research projects focus on women's leadership and the sociology of food.
In joining the Margaret Chase Smith Policy Center, Amy most looks forward to collaborations with diverse groups of students, community members, and faculty from across campus and the state. She and her husband Lance are enthusiastic residents of downtown Bangor, making their home at 58 Main where they are involved in efforts to bring nationally and internationally renowned musicians to town and provide space for a variety of events in support of area non-profits.
25 young African leaders travel to UMaine for 2017 Mandela Washington Fellowship
For the second year, 25 young leaders from Sub-Saharan Africa will spend six weeks at the University of Maine's Public Management Institute sponsored by the U.S. Department of State.
Jonathan Rubin, Director of the Margaret Chase Smith Policy Center, is the Academic Director of the Institute along with Co-leaders, Vice President for Research Carol Kim and Administrative Director Daniel Dixon. The Institute is supported by faculty and staff from the School of Economics, School of Policy and International Affairs, Foster Center for Student Innovation, Climate Change Institute and School of Marine Sciences.
During the Institute, June 16–July 30, the fellows will participate in a rigorous agenda of academic, professional, service and recreational activities statewide, including a weekend homestay with area host families.
Members of the public are invited to attend weekly cultural exchange events on July 5, 11, 19 and 24. Details about the events are online.
The Mandela Washington Fellowship is the flagship program of the Young African Leaders Initiative (YALI). The program empowers young African leaders through academic coursework, leadership training, mentoring, networking, professional opportunities and support for activities in their communities. Fellows are young leaders and experts in their fields with established records of accomplishment in their organizations, institutions, communities and countries.
The Mandela Washington Fellowship provides 1,000 outstanding young leaders between the ages of 25 and 35 from across Africa opportunities to hone their skills at the nation's top universities at institutes focused on business and entrepreneurship, civic leadership or public management. UMaine was one of 37 other institutions chosen to partner with the fellowship for 2017.
The 25 fellows visiting UMaine are from Botswana, Democratic Republic of Congo, Côte d'Ivoire, Djibouti, Ethiopia, Ghana, Guinea, Kenya, Madagascar, Mozambique, Namibia, Niger, Nigeria, Seychelles, Sierra Leone, South Africa, Togo and United Republic of Tanzania.
The UMaine Public Management Institute will offer academic sessions on topics including local and regional leadership, fiscal policy and financial management, innovation engineering, energy and environmental management, and Maine's history and culture. In addition to coursework, fellows will meet with Maine government and business leaders, and participate in site visits and cultural experiences throughout the state.
The site visits include a visit to the Blaine House and a visit to Indian Island to meet with leaders of the Penobscot Nation to learn about Maine's history and cultural heritage. The fellows visited the Maine International Trade Center, Maine Turnpike Authority and met with leaders of our Maine businesses including Planson International, IDEXX Laboratories and the Environmental & Energy Technology Council of Maine (E2Tech).
Following the six-week Institute, the fellows will travel to Washington, D.C. for the Mandela Washington Fellowship Summit. During this event, the fellows will participate in networking and panel discussions with peers and U.S. leaders from the public, private and nonprofit sectors.
More information about the Mandela Washington Fellowship is online. To contact UMaine's Mandela Fellows Program, email umaine.mwf@maine.edu.
Maine Government Summer Intern in the News
Thirty-nine student interns are hard at work this summer in a variety of jobs in Maine state and local governments. One of these students, Sarah Maloney, is working in the Maine Department of Transportation as a transportation planning intern with supervisor Nate Howard. Sarah is from Scarborough, Maine, and is an Environmental Science and Policy major at Clark University. In her work at MaineDOT Sarah is involved in a planning project for replacing or rehabilitating the international bridge between Madawaska and Edmundston, New Brunswick. She has recently attended public meetings in both Madawaska and Edmunston to get public input on the project. The project is featured in an article in the St. John Valley Times/Fiddlehead Focus.
The Maine Government Summer Internship Program has placed 39 interns in state and local government internships for the summer of 2017. Internships are full-time for 12 weeks and interns typically work on one or more major projects as well as learning the roles and functions of government agencies. More information on the program is available at https://mcspolicycenter.umaine.edu/for-students/maine-government-summer-internship-program/.
Residents, planners eye options for new international bridge
Maine's congressional delegation greets NEW Leadership students
We are celebrating the ninth annual Maine NEW (National Education for Women) Leadership program!
Maine's congressional delegation welcomed the students to the 2017 with these video addresses:
Senator Susan Collins
Senator Angus King
Representative Chellie Pingree
Representative Bruce Poliquin
A group of 28 outstanding college students from 14 institutions around the state took part in the residential conference to strengthen political skills such as public speaking, networking, advocating for a cause and running for public office. These future leaders participated in workshops hosted by leading figures from politics, business and education. The program ran June 1–6 at the UMaine campus.
Each year the Margaret Chase Smith Policy Center hosts this six-day undergraduate student leadership program for women to educate, engage and empower young leaders. For more information visit https://mcspolicycenter.umaine.edu/for-students/maine-new-leadership/.
Maine Policy Scholar from UMPI in the news
Idella Thompson, Maine Policy Scholar at the University of Maine at Presque Isle, is featured in a WAGM News video and article for her work on researching protection from abuse orders in Maine. Thompson was a Policy Scholar during 2016-17. After presenting her final project to a panel of Maine policy makers she submitted her report and recommendations to Governor LePage for his consideration. Idella's final memo, Protection from Abuse Orders in Maine, along with those of other Maine Policy Scholars, can be found on our website.
Watch the news video:
http://www.wagmtv.com/content/news/One-UMPI-Students-Policy-Ends-Up-on-the-Governors-Desk-426772091.html
The Maine Policy Scholars program is an academic year program in which one student from each of the seven University of Maine campuses, working closely with a faculty advisor, researches an issue of public policy relevance to Maine and presents a final report in a memo to the governor or legislature. The Maine Policy Scholars program is managed by the Margaret Chase Smith Policy Center at the University of Maine in partnership with the Maine Community Foundation.