Maine Government Summer Internship Program
Work for Maine this summer!
The internship program provides students an opportunity to participate in and contribute to Maine state agencies and municipal and county governments. Supervisors benefit from students with new ideas, energy and skills. Intern positions are full-time, paid work experience and interns are considered temporary unclassified state or municipal employees. The program is administered by the Margaret Chase Smith Policy Center at the University of Maine. The program is a collaborative process involving the Office of the Governor, the Maine Bureau of Human Resources, numerous Maine state government agencies, local governments and the state and municipal employees who serve as intern supervisors.
To learn more about the positions, projects and students placed in previous years, take a look at the 2019 Internship Report, the 2018 Report, 2017 Report and 2016 Report.
Eligibility
Applicants currently must either 1) be enrolled in a Maine college or 2) be a Maine resident enrolled in college elsewhere, and must have successfully completed a minimum of two years of college by the start of the internship. Students currently graduating from undergraduate and graduate programs also are eligible. While students who previously have participated as interns in this program may apply again, applicants who have not previously participated will be given preference.
Selection Criteria
The internship selection committee reviews applications and makes final selections by identifying those students who best match the requirements for each position. Consideration is given to education, skills and interests of the applicant, and previous work experience in relation to requirements of the internship positions available.
Placement Location
Most interns will be placed in the Augusta area. Students interested in placements outside of Augusta should mention this in their cover letter. There will be a select number of municipal internships throughout the state; past locations have included Caribou, Presque Isle, Bethel, Union, Bridgton, South Portland, Saco, Ellsworth, Portland, and Bangor.
Compensation
For 2020 interns will receive a minimum of $13.00 per hour, funded by the state or local agency (withholdings and contributions will apply).
Educational Component and Concluding Ceremony
The program includes an educational component which requires that interns attend a mid-summer one-day seminar in Augusta. The program concludes with a reception and awarding of certificates by the Governor or a designee.
Dates for the 2020 Program
The 2020 Maine Government Summer Internship Program will run for a total of 12 weeks between Tuesday, May 26, and Friday, August 14.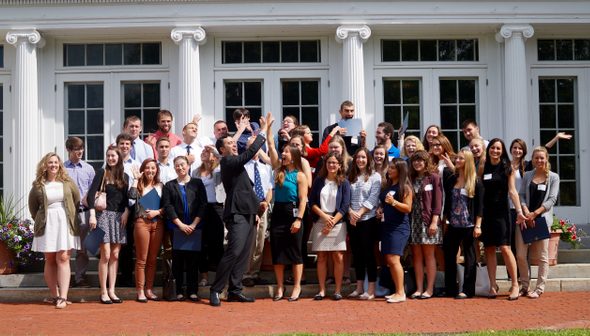 For More Information
Peggy McKee, Internship Coordinator
Phone: 207.581.1644
e-mail: margaret.mckee@maine.edu