Mary R. Cathcart
Senior Policy Associate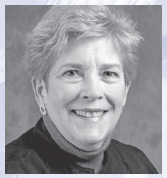 Mary Cathcart has been with the Margaret Chase Smith Policy Center since 2004. In 2006, Cathcart began the Distinguished Maine Policy Fellows program. Since 2008, she has been the co-director of Maine New Leadership (NEWL), a program that she initiated. Cathcart also collaborates with the Maine Development Foundation and others to plan and offer policy forums and bus tours to legislators throughout the State of Maine.
Contact
5784 York Complex #4, Room 210
Margaret Chase Smith Policy Center
University of Maine | Orono, ME 04469.5784
Office Phone: 207.581.1539
Email: Mary_Cathcart@umit.maine.edu
Education
B.A. English, Rhodes College
Bio
Mary R. Cathcart served four terms (1996-2004) as the State Senator representing communities in Penobscot County and previously served three terms in the Maine House of Representatives. Cathcart served on a number of legislative committees, including Education and Cultural Affairs, Labor, Judiciary, and Appropriations and Financial Affairs, which she chaired in 2003-2004. She chaired the Joint Select Committee on Research and Development (1997-1999) and several study commissions.
Outside of state government, Cathcart chaired the U.S. Commission on Child & Family Welfare (1995-1996), at the appointment of former U.S. Senator George Mitchell, and the New England Board of Higher Education in 2006-2008. She currently serves on the working group to plan and develop a new Institute for Leadership and Democracy, as well as several nonprofit boards, including the New England Board of Higher Education, the Eastern Maine Medical Center, and Maine Centers for Women, Work and Community.
Cathcart has received the Maryann Hartman Award at the University of Maine (2006) and theMerle Nelson Women Making a Difference award from the Maine Centers for Women Work and Community (2011).